Since you are reading this post, then I will assume that you already have a website, and you are trying to position well for specific keywords on search engines.
You probably have wondered why your site is not ranking well for those keywords, although you accomplished most if not all the SEO recommendations online.
In this post, I will list 14 practical search engine positioning tactics that you can do. Many people misunderstand search engine optimization and think that you must be an expert, with not less than ten years of experience, to get guaranteed search engine results. But the fact is:
SEO is not rocket science
The key is, among those 14 tactics, you probably have not noticed or heard of a few of them, and those few ones are the only barrier to the search engine positioning boost you're aspiring.
Here's a summary for the 14 tactics that you can do to improve your search engine rankings
Also, believe it or not, those tactics are far from being hard or unachievable. For every one of them, there are even some free tools for you that will help you spot an issue or retrieve helpful information that will make your task easier.
It is critical that you analyze your website carefully against each tactic in this post and make the correct judgments out of your analysis to take the right action in the end.
Those actions are guaranteed to boost your position to not only the first page on search engines but at least among the top 5 results.
According to Organic SEO vs. PPC in 2018: CTR Results & Best Practices, the first five results receive 67.60% out of the search traffic.

So let's dive in.
So what is the meaning of search engine positioning?
Before we go through the 14 tactics, it's essential to know the correct search engine positioning meaning. Without complications, the meaning exists in the search engine's purpose.
A search engine's job is to provide a user with the best ultimate results when a user searches for a specific keyword. Those results are the highest quality web pages that a user can find relevant to the keyword he's looking up.
But would the entire results have the same quality or relevance to the searcher's keyword? The answer is, "No."
Some of these results are more relevant to the searched keyword than others. Some of them are of higher quality content than others. Also, some of them load faster on a browser than the others.
Those metrics, along with other dozens, are the factors that search engines use to order the results for the searching user such that the highest quality pages come at the top positions, and the lower quality ones follow.
That is mostly what the meaning of search engine positioning is.
According to GlobalStats, Google represented 92.51% of the market share of desktop search engines from January 2019 until January 2020. That's not all; that percentage translated into 3.8 million searches per minute, 228 million searches per hour, and 5.6 billion searches per day.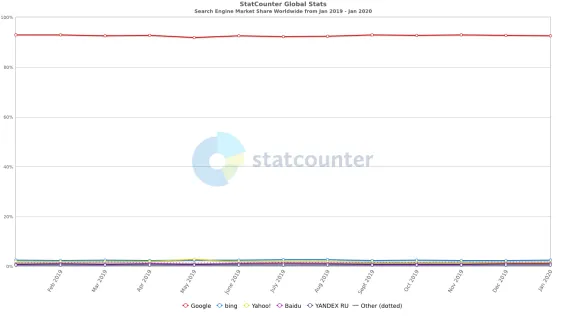 No wonder that Google is the godfather of internet traffic that everyone is trying to rank his website for, and that's why Google's content quality guidelines will scope the tactics discussed in this post.
So let's tackle them one by one.
Tactic 1 – Position your site in search engines with reasonable keyword research
Yes, every website is different in authority, age, link profile, speed, usability, and much more. Accordingly, your keyword research must be tightly correlated to your website.
In other words, roughly speaking, if you are targeting a particular keyword that the existing top ten search results' web pages are of high authority and already killed the subject with in-depth content and link profiles, then it would be tough for your site to rank for these keywords unless you are going to add unique ideas that have never been mentioned anywhere on the internet or discuss the topic from a completely different angle.
So, that leaves us a question.
Which keywords can your website be positioned for easily? And how can you lay a hand on these keywords?
Regardless of your favorite keyword research tool, there are some standard metrics that you must know for every keyword that you're trying to qualify for your website.
These metrics are:
Monthly Search Volume: how many times users searched this keyword per month.
Keyword Difficulty: How difficult is this keyword for your website to target it?
Keyword Type: Is this keyword a branded one like "Nike shoes for men"? Long-tail keyword? Transactional or informational?
Cost per click CPC: How much the other websites are paying per click to advertise for this keyword?
The good news is, those metrics represent a cornerstone of the keyword analysis and your website qualification phase, and there is a tremendous amount of tools that provide these data with just one click.
Our favorite tool to get these numbers is KWFinder.
This tool is proven to be the best, most affordable, and compelling among the other keyword research tools. It provides some crucial features like:
Exact search volume, not ranges as in Google Keyword Planner.
Accurate keyword difficulty and SEO metrics compared to many other tools.
KWFinder imports up to 840,000 keywords daily.
Here's how you can easily spot the easy long-tail keywords that your website can position for in the top ten results.
First, go to KWFinder and type in your target keyword and hit Enter on your keyboard, for example, we are going to search for the keyword "SEO agency" as shown below.

Once you hit Enter, you will get a great list of keywords (including your target keyword) that are relevant to your exact searched phrase along with their search volume, keyword difficulty, cost-per-click, and more, as shown below.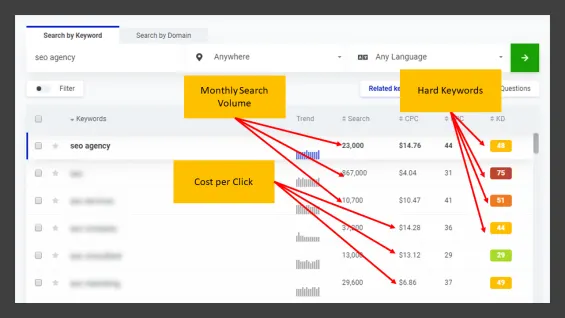 As you may have noticed, the keywords listed have a keyword difficulty KD above 40. According to your website, decide how hard this score is, but for an average authority site, you can consider those keywords as hard competition.
The next step is to find the simple keywords that your site can rank well for in the shortest possible time. To get easily target-able keywords, we need to find those with difficulty of 30 or less. To do so, click Filter, as shown in the below image.
Then enter a minimum monthly search volume of 100, maximum keyword difficulty of 30, and the number of words as three, then click the blue button "Set Filter."
Once you do that, you will get the new keyword results, as shown below.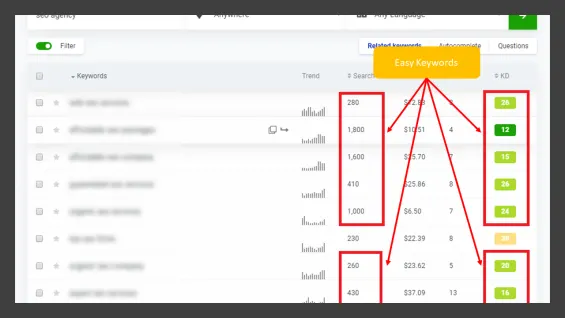 Now, we got some easy keywords with considerable monthly searches that you can export to an Excel sheet for further analysis to re-qualify them according to your website. That's how easy pulling accurate keyword metrics is.
But, in addition to that easy process, it's important to mention that you must subject your qualified keyword list to the next level of re-qualification.
To start the next re-qualification process, put every keyword in your list on Google, then check the top ten search results. Those top 10 search results are your competitors ranked for your target keyword.
Check your competitors one by one against the following metrics:
Content quality and what the word count is.
Page speed.
Backlinks.
Domain age.
What are the Citation and Trust flow?
Then compare your site to those competitors' scores. By doing that, you will notice if your website is going to compete well for your target keyword or not, and mostly you can consider that as the "SEO competition analysis."
Tactic 2 - Acquire faster positioning by targeting variations to your primary keyword
Another great way of targeting a specific keyword is to look for different varieties of that keyword. Those variations will also help you develop more exceptional content that's more solid around the topic.
An example of a keyword variation is, assuming your main keyword is "SEO agency" then the variations of that keyword will be "SEO agency London," "SEO agency near me," "SEO agency meaning" and so on.
One great way to find keyword variations is by using Google suggestions. Open your browser and head over to Google.com and type in your keyword then add extra trailing space without hitting enter.
Here's an example of the keyword variations for "SEO agency."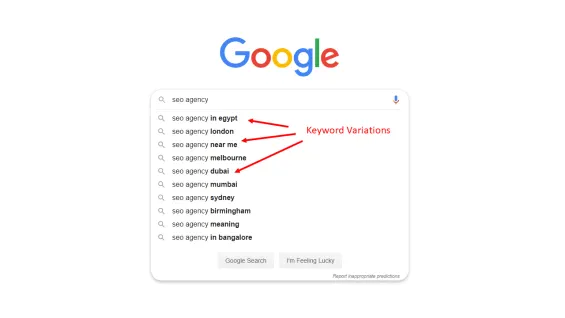 Once you list out those keywords, remove the trailing space at the end, then add a leading space at the beginning of the keyword, and you will get a completely different collection of variations to add to your list.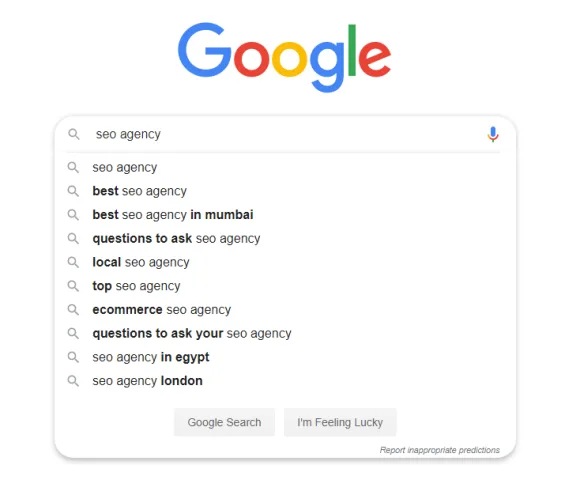 Keyword variations are considered a double-edged weapon that comes in handy to obtain different ideas that you can include in your content; at the same time, Google guarantees you that people are searching for these keywords since they are already coming from Google's suggestions.
Check the search volume of every suggested keyword, they will tend to have lower monthly searches than your main keyword, but they are going to be less competent and of high potential in the future of your incoming traffic and positioning.
Don't ignore those suggestions of zero monthly searches; it's not a flat zero. Otherwise, Google wouldn't have suggested them. It's just that the tool you're using is not updated yet with the recent numbers.
Tactic 3 - Write longer and in-depth content
Here's a fact, Google does not favor a content of 600 words or fewer for proper positioning on the first page. Even if you found some examples ranked well with such word count, they are going to be easy targets for other sites to beat with more excellent and longer content in the future.
Since SEO is all about competition, you don't want to put yourself in a position to be an easy target and lose your ranks because other sites provided more thorough and in-depth content.
Remember, as mentioned in the previous tactics, one of those factors you will be looking for in the competition analysis is the word count and quality of the content of the top 10 search results.
Why? Because you are going to write more extended and in-depth content than your competitors. So it's not only about the quantity, but also the quality.
Besides, search engines always prefer the content that comprehensively talks about the subject, which makes sense to both the readers who visit your page and your search engine positioning.
According to Search Metrics, the average word count of the first-page-positioned content in Google in 2019 is between 1,140 and 1,285 words.
Referring to Curata, only 18% of the companies write content fewer than 750 words, and more extended and in-depth content generates leads 9x more than the shorter ones.
In conclusion, it's not only recommended but also required that you target a specific keyword with a content of at least 1000 words or above. Consider the second tactic of keyword variations as a great way to get more ideas to write an all-inclusive type of content.
Tactic 4 - Optimize your content wisely with bold text to avoid search engine penalties
While there are doubts about whether to bold specific text in your content or not, here's a fact, a bold text means that this text is essential to read; also, it will grab the attention of the user reading your content in terms of user experience.
Technically, you can mark a specific text in your content as bold by using either <strong> or <b> tags. It won't make any SEO difference according to this video for Matt Cutts.
Since your focus primarily should be on users, then it's recommended to bold only the phrases that make sense to be bolded. In other words, do not bold your target keywords that are not important to grab the reader's attention to them while reading your content.
Since overwhelming your readers with bold text is not such a great user experience, a good practice is to have a maximum of two to three phrases in a 1000-words article.
Besides, an article that's full of bold text everywhere is a signal of over-optimization to search engines, and they're going to penalize you for that.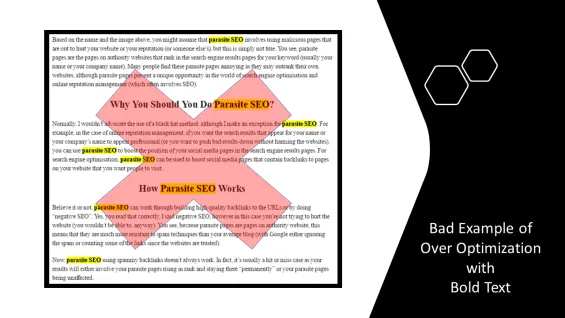 Source: Can Too Many Bold Keywords Harm Your Rankings In Google?
Also, a few years ago, Google updated its ranking algorithms to be smart enough to judge an overall page's quality, so this does not guarantee if they will value your bold text and give it more attention than the usual content or that you'd get a massive impact if you bolded your focus keywords.
So take action now and review all your site's content against bold text and fix those pages you'd find over-optimized with bold text to look normal.
Tactic 5 - Typos and grammar mistakes are the worst enemies to search engine positioning
It's beyond critical to emphasize the fact that spelling and grammar mistakes will hurt not only your page's rank but also the overall website's search engine positioning.
Imagine you're reading an article and you found a spelling or a grammar mistake within the content, would you trust the author or the website? I bet the first thing you are going to do is finding the close button on your browser to look for another trust-worthy one — the same thing for search engines.
You might also think that your site is not a victim of such a trivial mistake until you test it out, and the fact is, no website is perfect.
But what if your website has too many pages to check against spelling and grammar issues? As mentioned before, for every task, there is a tool that can handle most of the heavy lifting for you.
We recommend using Seobility; it's a great tool endorsed by Brian Dean, founder of Backlinko as a robust, user-friendly site-auditor.
All you have to do is to sign up for a free account, enter your website URL, and let it crawl all your pages.
This tool is not only going to find typos and grammar mistakes but also finds triggering issues with your technical SEO, content quality, backlink profile, and much more.
Here's an example of crawling results with spelling mistakes.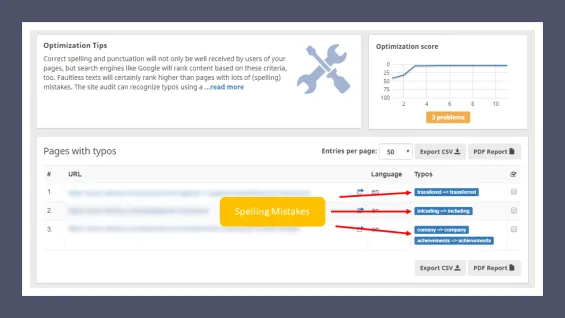 This method works well testing the existing pages against the spelling mistakes, but to avoid the same problem in the future, you should use a tool to guide you through while you write.
We recommend using the most popular tool for grammar and spelling mistakes, Grammarly.
Grammarly's free account is enough for you to correct not only grammar and spelling but also punctuations, and if you upgrade to a premium account, you will get even more than that, like suggesting strong vocabulary, different word synonyms for excessively repeated words, correcting passive voice and much more.
Tactic 6 - Add references, external links, and statistics to your content
So you're writing about a topic that targets the main focus keyword along with other variants. Your content is flawless and in-depth. Now what?
Imagine you're reading an article that does not have any citations, resource links, or references to authority sites, how likely are you going to believe in the legitimacy of that content?
The fact is, since your main focus is the user, readers tend to read more details about a topic that interests them, and it's always recommended, including external links to other sites whenever possible.
If a user clicked a link on your page that goes to an authority site, he would likely trust the information you're providing, and so do search engines.
Search engines will also be able to correctly identify the type of information you're providing through your external links and accordingly position your site correctly over time.
Moreover, quality content is the one that hooks the user. Users should always enjoy your content to read more and spend a considerable time without bouncing out so early.
Another form of external linking that's proven to hook readers well is adding real data statistics, charts, and infographics to your content.
For example, check SEO Copywriting: How to Write Content For People and Optimize For Google by Neil Patel, and try to examine the infographics and charts included in the content.
According to this study, your average site visitors will only read 20% of your textual content. However, they tend to interact and view images more.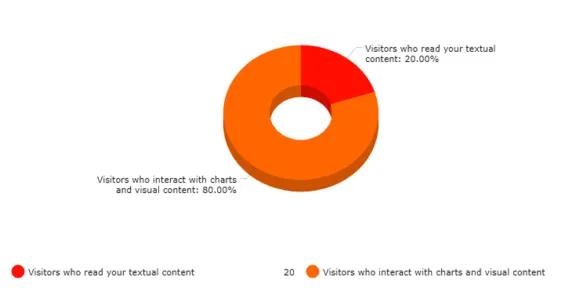 If you do not have enough data and statistics to include in your content, we recommend that you take a look at Statista or StatCounter. You can search for a topic, and those tools will provide you with real statistics and data that you can include in your content.
Adding those statistics to your content will allow you to cite the sources who provided these data with external links in your content.
Tactic 7 - Include the right media and visual elements
According to Buffer, only 55% of the users will evaluate your article in the first 15 seconds, and that's why you should focus on grabbing their attention more than just landing clicks.

A great way to grab the reader's attention is to add visual elements to your content like images, videos, or interactive embeds, but wait, it's not as simple as that.
A massive amount of articles and landing pages online fall into the mistake of just including stock images in their content that would not add any valuable information to the user.
Do not make the same mistake. Let's face it. Stock photos are not going to hook your reader or grab his attention, so what is the type of media that you should include to pin a user to your page for a considerable time?
The answer is simple; it's infographics and charts. Here are some interesting facts about infographics according to Progressive Content:
Around 80% of site visitors remember what they see and do rather than what they read.
An infographic is 30 times more likely to be noticed carefully rather than just text.
Google recorded over 67,000 monthly searches for infographics in 2013.
In conclusion, do not lose this opportunity to let your site visitors engage with your content and include yourself among those 80 percent.
It's also effortless to build an infographic of your own; all you have to do is head over to Canva and give it a try. They have tons of useful and engaging templates that you can fill them in with your data to get a nice-looking infographic.
Tactic 8 - Google Structured Data is a doorstep opportunity
When you publish new content to your site, Google spends some considerable time to let the algorithms work together to identify what your content is all about and the time needed is debatable, but in most experiences, it's in the range between 3 and 6 months for moderate authority sites.
Even if you submitted your page to Google Search Console to be indexed, which in some cases takes only a day to index your page, Google still needs to know what your content is talking about and accordingly position you for your targeted keywords.
So, Google structured data are some scripts or markup placed in your HTML that help the search engine crawlers to identify your content type. Is it a technical article? Product page? Music library? And the list goes on.
Structured data are also helpful to the searching user, as he'd find your page placed in a special box in search results that will help them know more about your content even without clicking your page.
Here are some examples of featured snippets that appear in search results.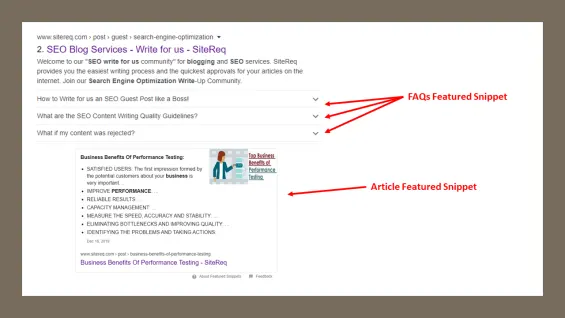 Also, according to Search Engine People, 41% of the questions asked on Google have featured snippets, which is a considerable percentage.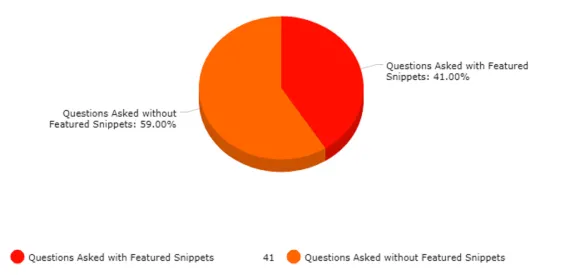 To add structured data to your content, it requires some technical skills and guidance, here's how to understand how featured snippets work and a good explanation of how to place some script tags to your page to enable that feature in Google search.
If you are unsure which type of structured data script you should place in your page, you can add multiple snippets for different types that you suspect your page could be a good match for, and let Google do the rest picking the right model for you according to the searched keyword.
Once you finish adding the scripts, you should also test your page against any errors using Google's Structured Data Testing Tool.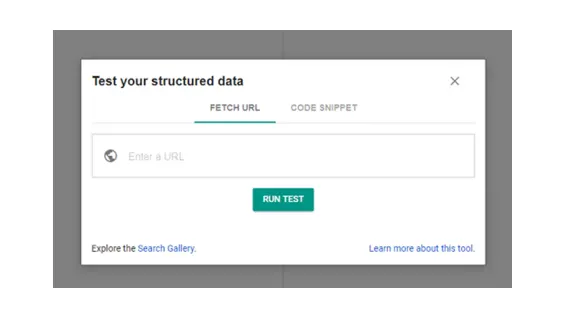 Just enter your page's URL and wait for Google's test results.
Tactic 9 - Leverage a thorough linking structure
As mentioned before, search engine crawlers regularly visit your site to grab useful information and update Google's databases with the collected data for positioning, indexing, and repurposing.
Those crawlers use your on-page links to propagate through your website page by page; they use several metrics to measure how valuable an anchor tag is, like the tag's position, type, anchor text, and some others.
Also, your website's internal pages transfer the authority and trust to each other through links. A top link would be of higher importance than the one in the middle than the one at the bottom.
It's recommended that you read How to Improve Your Website Navigation: 7 Essential Best Practices and revisit your site's navigational structure, link positions, and anchor text accordingly.
In addition to link position and anchor text, you should test your site against Link Juice. You don't want to waste the authority of an internal link redirecting to log in, sign up, or about-page in your navigation or content.
Instead, mark all those links as no-follow to let the crawlers know that they should avoid going through the less-relevant pages.
Tactic 10 - Scrap all broken links for better search engine rankings
Wiping out broken links on your site is as much important as fixing your site's grammar mistakes and typos.
A user clicking on a broken link on your website is the worst experience, and also an enormous loss in trusting your site.
According to Reg Blog, 88% of the engaged online users are less likely to return to a website after repulsive user experience.
That's why it's intensely important to test your site against broken links, and our favorite tested tool that can handle that with detailed reporting is the Free Broken Link Checker - Online Dead Link Checking Tool.
All you have to do is typing in your site domain name and let it crawl your site and do the rest for you.
However, testing your site against dead links should be done at least weekly since your linked sites can shut down anytime, and you will not be alerted until you retest your website.
We recommend that you check the Link Monitor tool and set up some automatic alerts so that you can handle the unresponsive links right away.
Tactic 11 - Get rid of zombie pages
You may think that the more content you add to your website, the higher the position and trust your site gains, but the fact is, that's completely misunderstood and incorrect.
Remember, it is mandatory for a website to position well on a search engine is to be curated by robust and high quality, and well-researched content backed by a thorough SEO keyword research.
Over time, you will notice that there is a bunch of pages on your website that do not add any value to your business (like sales or conversions), traffic or the end-user due to any of the following reasons:
The page does not target any searchable keywords.
The content of the page is obsolete or of low quality.
The page targets hard keywords, and it found difficulties reaching top positions.
Also, those pages are still being crawled by search engine crawlers and form a considerable part of the general theme of your website to search engines which means, they do steal link juice and some of your website's overall rank and positioning.
And that's why those pages are called Zombie Pages. For more details about zombie pages, see SEO in 2020: The Definitive Guide and head over to the "Prune Zombie Pages" section.
According to Brian Dean, the founder of Backlinko, a massive number of websites have 50 - 70% of zombie pages, which are the pages that search engines indexed more than they expected. Removing those pages will dramatically boost your traffic with a tangible improvement to your search engine positioning.
But is there a way to catch zombie pages?
Yes, our favorite way to find zombie pages on a website is by using Google Analytics. Open your site's Google Analytics, then follow these instructions:
On the left, click Acquisition, then Overview.
Then at the top right, select a date range that's a year until today.
Now, click on Organic Search.
Finally, click Landing Page, as shown in the below image.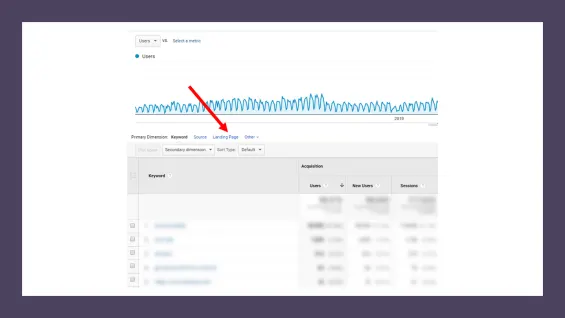 That report lists all your website's pages, along with their traffic data across the last 12 months. You only need to check those pages that you suspect being zombie by entering their URL in the search box (without the domain name) then hit Enter, as shown in the following screenshot.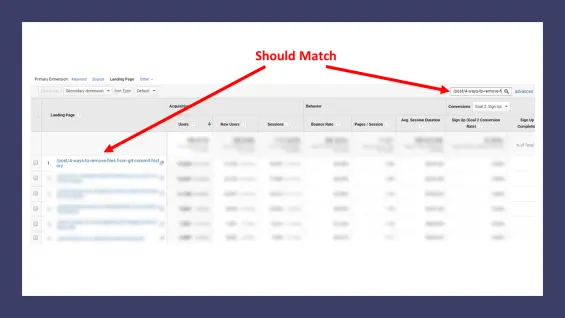 At this step, you will narrow down your report to just that single page you're targeting. If you found that page not performing well in search traffic, then you can do one of the following options to kill that zombie.
Permanently remove the page from your site.
Perform a 301-redirect from that page to another more valuable page on your site that is strictly relevant.
Add a no-index meta tag to your page and make sure to change all the internal links that go to that page to no-follow.
Once you take any of these actions, remove the page from your website's sitemap as well and repeat the previous process with the rest of the pages that you don't often notice in your traffic analytics.
By following this Tactic, you will improve your overall site's authority with trustworthy pages only in your sitemap and search engine index; at the same time, you pipe-lined your site's link juice to the potential pages only, which will improve their search engine ranking.
Tactic 12 - Land and expand
This tactic is close to the second one, but the only difference is that it works for the already-ranked existing pages on your website.
The Land and Expand concept is looking for those keyword variations to a keyword you are already positioned for in Google then target those variations.
The good news is, those keyword variations are listed for you already in Google Search Console, and they are just a few clicks away from you.
To find keyword variations that you can easily position your existing pages for in search engines, follow these steps:
Open Google Search Console.
On the left, click Search results.
At the top, change the selected date interval from "Last 3 months" (default) to "Last 28 days" and click Apply.
Then, below the chart, click "Pages."
Pick any page that you'd need to find some keyword variations for and click it.
Now, below the chart, click "Queries" again.
Above the chart, click "Average Position" to include it in your report.
On the right side, click the filter icon.
On the filter menu, click position, then select "Smaller than" and type in 30, then click Done.
Click the filter icon again, but this time, select "Impressions," then select "Greater than," and type in 50 and click Done.
Now, on the current report, click the "Position" column to order it descendingly.
In the current report, the keywords listed between position 30 and position 7 are considered potential keyword variations with expected high search volume that you can target them in your existing content.
You can expect those keywords to boost your existing content to higher positions in Google in a shorter time compared to newly published pages on your site because, with that report, Google is merely telling you:
"I'm trying to rank your page for these keywords, but they are not targeted well in your content yet!"
Tactic 13 - Impose an authoritative link profile
Even though Google improves its Penguin ranking algorithm to disqualify the sites with black-hat spammy linking techniques fairly, a recent study proves that backlinks are still the primary dominant key to position well in search engines.
A backlink is simply a link anchor HTML tag with some anchor text placed on an external website and points right to any page on your site.
When search engine spiders crawl any site and find a link to your website, they also update Google's databases with essential metrics about that link like:
Anchor text.
Link location.
Link relevancy.
How authoritative the page that contains the link is?
The page depth, or how far that page is from the site's homepage.
A backlink to your site placed on the homepage of another site is the most powerful and authoritative link you can get from that website.
Backlinks placed at the top of a page are more potent than the ones in the middle, or the bottom. Also, the closer the linking page is to the homepage, the more authoritative that page is in terms of ranking backlinks.
Also, relevant backlinks placed within the content of a page pointing to your site are proven to be more authoritative than the ones placed on the sidebar for advertising as an example.
Also, a backlink that comes from an authority website that both search engines and searchers trust is proven to be more powerful to rank your site than the ones coming from untrusted sites. That's a profound reason why you should avoid black hat SEO by all means.
Apart from black-hat SEO, it's really important to leverage every legit link building technique that will help your site rank well on search engines over time. Here are some underrated link building tactics, shared by Oscar Florea from Spiralytics, that really work effectively as the popular ones.

Source: Underrated Link Building Tactics that Work Surprisingly Well
According to Backlinko, the average search engine results in the first position in Google, have more than 35 thousand of backlinks.
According to Ahref's case study, the more referring domains to your site, the more likely your site is going to position for top keywords.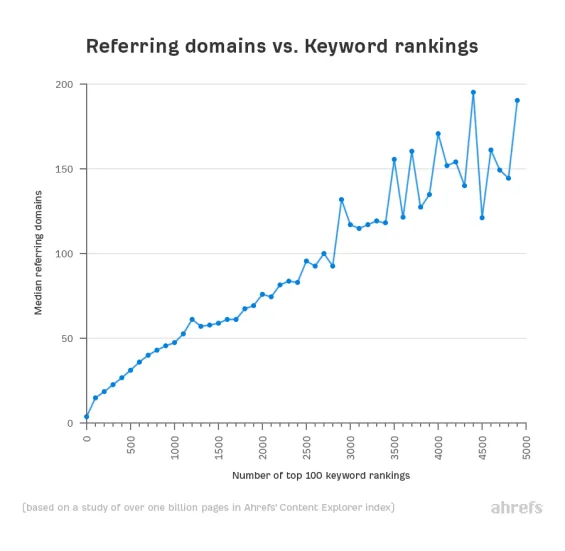 Source: https://ahrefs.com/blog/search-traffic-study/
However, that does not mean that the number of backlinks would always work in your site's favor. Both quantity and quality have certain conditions in terms of positive or negative search engine signaling. We recommend that you read What Matters More: Backlink Quality or Quantity for more insights.
Neil Patel, a content marketing and a leading SEO strategist, provided a case study that proves that one of the most efficient inbound content marketing tactics is guest blogging, which is also considered a backlink generator machine.
It requires a thorough process starting from a great blogging idea, the outreach, content writing, and publishing your post.
Also, to make it even less complicated, here's a list of article submission sites along with more details about the importance of backlinks coming from guest posts.
Guest blogging is not the only powerful tactic to acquire powerful backlinks. Brian Dean, the founder of Backlinko, published a great video about nine different approaches to acquire powerful backlinks. We recommend that you watch it.
Tactic 14 - Ditch your site's spammy backlinks
Here's a fact, it doesn't matter how much you're striving to acquire quality backlinks to your site. Other spammy sites will still link to you. Those sites are completely uncontrollable since you will not be able to stop all of them from placing your links.
Backlinks coming from spammy websites will hurt your search engine rankings and the overall trustworthiness of your site.
That's why even if you managed to acquire a considerable amount of quality backlinks, but there is a more significant number of spammy websites pointing at your site, your efforts can be in vain.
Fortunately, Google gave us hope with a great tool to disavow spammy backlinks to your site. With this tool, you will tell Google not to consider specific spammy sites when it ranks your website and positions your pages for particular keywords.
All you have to do is to open Google's Disavow tool your browser, select your target site, and click "Disavow Links."
You will be able to either add a new disavow list file or update your existing one to Google. For a detailed Google tutorial on how to disavow backlinks, see Disavow backlinks - Search Console Help.
Conclusion
Nothing beats taking a right and legitimate way to achieve the search engine positioning that you are pursuing. Apply each tactic outlined in this post to your website and wait patiently for the great results.
Do not quit in the middle of the process. Back yourself up with a weekly plan and reminders for the regular site checks like the broken links detection.
If you are planning to write a new piece of content, make sure that you stick by the guidelines, and always spy on your competitors for more insights on how to outrank them.
If you would like to improve this article with more tactics, feel free to post a comment.
Did you find this helpful?
Read Next
The following articles are related to website search engine positioning - 14 unique doable tactics.